General airspace restrictions
A number of airspace restrictions exist within the UK and these apply equally to both unmanned and manned aircraft. These areas are referred to as either: Prohibited Areas, Restricted Areas or Danger Areas.
Most of these areas are 'permanent', in that their restrictions apply at all times and they are marked on aviation charts but other portions of airspace may become temporarily restricted, either as a result of a longer term pre-planned event, or in reaction to a short notice occurrence, such as an emergency incident.
Further details can be found in the UK Aeronautical Information Package (UK AIP) at the NATS Aeronautical Information Service (AIS) website. General airspace rules and procedures can be found at section ENR 1.1, and specific 'Navigation Warnings' can be found at section and ENR 5. The table below describes which airspace restrictions apply to UAS. Some restrictions may be established at short notice, so UAS operators and remote pilots must check for any restrictions, every time they fly.
Controlled airspace requirements (Class A,B,C,D,E) do not apply to UAS operating within the Open category.
Within the Specific category, an operator may be required to obtain permission to enter controlled airspace within the terms of the authorisation, or if detailed within the ops manual. This is dependent on the type of operation and the mitigations provided within the safety case. See CAP 722A for further information.
Flight restrictions around aerodromes
Flights of unmanned aircraft around aerodromes that are designated as 'protected aerodromes' are restricted. Unmanned aircraft of any size must not be flown within the Flight Restriction Zone (FRZ) of a protected aerodrome, without appropriate permission.
The Flight Restriction Zone consists of the following three elements:
-A zone with the same dimensions as the Aerodrome Traffic Zone: A 2 or 2.5 nautical mile radius 'cylinder' around the aerodrome, extending 2000 ft above ground level, centred on the longest runway.
-Runway Protection Zones: A rectangle extending 5Km from the threshold of each runway away from the aerodrome, along the extended runway centreline, and 500m either side - also to a height of 2000 ft above ground level.
-Additional Zones: In the case where a line that is drawn 1Km beyond the boundary of an aerodrome extends beyond the Aerodrome traffic zone, and so would not be protected by it, the flight restriction zone will include a 'bump' (the airfield boundary + 1KM) to protect this part of the aerodrome.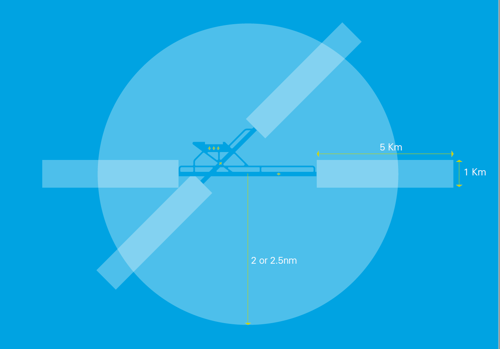 The exact shape of the Flight Restriction Zone varies depending on the specific aerodrome that it protects. Prior to flight, remote pilots should check to ensure that they are operating well outside these areas from the official sources:
The list of protected aerodromes also includes heliports, these only comprise the circular (ATZ) portion of the FRZ (and additional zones where applicable), and do not include runway protection zones.
In the case of a protected aerodrome without an ATZ, the FRZ includes an ATZ shaped FRZ, with a 2nm radius (regardless of the runway length).
Permission must be obtained from the relevant person before an unmanned aircraft may fly within a Flight Restriction Zone. This person is usually whoever is 'in the Tower' (i.e. an Air Traffic Controller or Airfield Flight Information Service Officer'. If neither of these are available, because the airfield has closed or there was no ATC/AFIS provision in the first place, then permission must be sought from the Aerodrome Operator.
Permission requirement:
Type of Air Traffic Control Service
Within Aerodrome Operating Hours
Outside Aerodrome Operating Hours

Air Traffic Control (ATC)/

Aerodrome Flight Information Service (AFIS)

Air Traffic Control or the Aerodrome Flight Information Service

(i.e. the person in the tower)

The Aerodrome Operator

(i.e. the aerodrome operations office)

Air Ground Radio Service (AG)

No form of Air Traffic provision at all

The Aerodrome Operator

(i.e. the aerodrome operations office)

 
NATS publishes a map of the restrictions and  downloadable versions of this data, as Google Earth or AIXM files.
Temporary airspace restrictions may be added, which are not displayed on this map. These are notified by NOTAM, and can be found either within the AIS NOTAM system.
Other UAS mapping and planning websites exist, which also contain this information.
Flight Restriction Zones around Space Sites
Flights of unmanned aircraft around protected space sites are restricted, under Air Navigation Order article 94BA. A protected space site includes:
- Space ports (as defined in the Space Industry act 2018)
- An installation at sea, at which controlled and planned landings of spacecraft take place or are to take place, which can be moved from place to place without major dismantling or modification.
A space site FRZ is a cylinder with radius of 5Km centred on the mid point of the launch pad, and a height of 2000ft above ground level.
Where can I find airspace restrictions for UAS?
Airspace apps
Drone Assist is the drone safety app powered by Altitude Angel. It provides an interactive map of the sky and is used by general aviation, balloon pilots, and other airspace users. It allows you to see areas to avoid or in which extreme caution should be exercised, as well as ground hazards which may pose safety, security or privacy risks when flying your drone.
It also contains a 'Fly Now' feature which enables you to share your drone flight location with other app users and the wider drone community, allowing you to avoid other airspace traffic so you can have a safe and enjoyable flight.
Drone Assist is available in the App Store and Google Play Store.
* The CAA supports any measure to improve drone safety but, as a regulator, cannot endorse individual products.
You can also see airspace advice online (without using an app) via the NATS portal at nats.aero/airspace/drones
The NATS airspace user portal is available at aup.nats.aero/
Other apps
In addition to Drone Assist, other useful resources exist to support the safe use of drones. We have included a selection below which their developers have declared to meet the following criteria:
Clear and accurate visualisation of relevant airspace with textual description
Comprehensive and reliably up-to-date airspace database from an approved aeronautical information management source (to ensure timely inclusion of airspace changes and temporary restrictions or hazards)
Includes UK drone safety regulations (e.g. the Dronecode)
The CAA has not checked or approved the apps listed here.* Full responsibility for safe operation remains with the person operating the drone. It is up to them to assure themselves of the accuracy of the data and comply with all UK drone rules and regulations.
If you have developed an app which meets the above criteria and would like to be included in this list, please e-mail content@caa.co.uk.
* As a regulator, the CAA supports any measure to improve the safe use of drones but does not endorse individual products.
Airmap
Use AirMap to get real-time airspace intelligence about your flight, including nearby controlled airspace, temporary flight restrictions, critical infrastructure and changes in weather. Use AirMap's precision flight planning tools to get a dynamic, real-time understanding of airspace conditions, advisories, and requirements prior to takeoff. Get live traffic alerts when manned aircraft trajectories create a potential hazard for your drone's area of operation. Create a pilot profile, manage your aircraft, view past flight plans, and more.
AirMap is available to download in the App Store and Google Play Store.
Drone Scene
Drone Scene– provides drone operators across the UK with an easy to use map in order to find and share great places to fly. The map is overlaid with multiple layers of data which allow you to choose both the ground hazards and the air space restrictions for any given area.
The airspace data layers are updated in real time which ensures you have up-to-the-minute information about the safety and legality of any given area, including the latest NOTAMs.
Drone operators can also use Drone Scene to submit planned flight reports to NATS for both recreational and hobbyist flights.
Regulations are constantly changing. It remains the responsibility of any pilot to check for any changes before flying the same location. Drone Scene makes this easy
Airspace Access Reporting
If you have been denied access to a portion of airspace, and feel that your request was not considered appropriately, you can report this to the CAA.
Other considerations to take into account before operating
The aviation regulations only address the flight safety aspects of the flight and they do not constitute permission to disregard the legitimate interests of other statutory bodies such as the Police and Emergency Services, the Highway Agency, local authorities or any other statutory body. As the range and scale of unmanned aircraft operations continues to grow, statutory bodies are increasingly aware of how unmanned aircraft operations will affect their areas of responsibility and are developing specific policy, guidelines and byelaws.
In many circumstances, the operation of UAS falls within the remit of non-aviation national legislation, and local byelaws, for example public-order offences, ensuring pedestrian and vehicle rights-of-way, security and safety in public places and at schools, limits on recreational activities in public parks etc.
Unmanned aircraft operators should also be mindful of the requirements of Section 76(1) of the Civil Aviation Act 1982 in relation to trespass and nuisance, noting that they must comply, at all times, with the relevant UAS operating regulations.
Unmanned aircraft should be flown at a height over the property of another person which is 'reasonable' in all circumstances. Failure to do so could amount to trespass if the flight interferes with another person's ordinary use and enjoyment of land and the structures upon it.
Provide page feedback
Please enter your comments below, or use our usual service contacts if a specific matter requires an answer.
Fields marked with an asterisk (*) are required.